A Watermelon With Nutrients To Last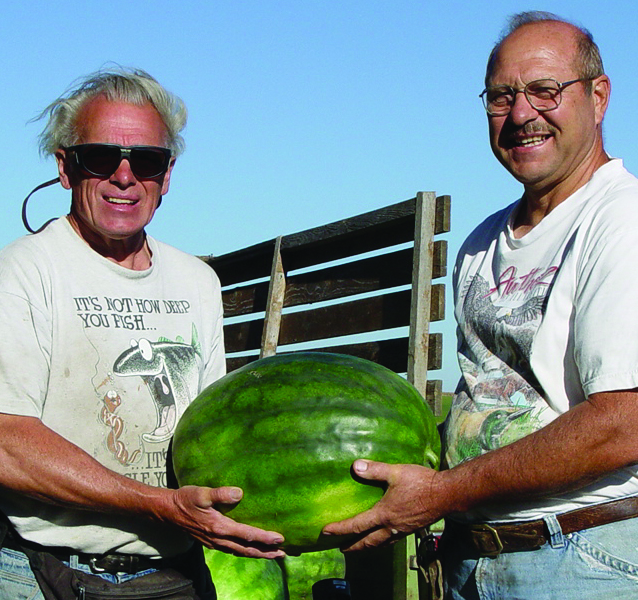 The watermelon was harvested the previous year on September 11, 2003 along with 50 more in varied sizes. The picture was taken in March of 2004 as you can see with Rick Thom. The melon has been in the Earthsoils office all the time in the corner with average temperature of 70 to 72 degrees. The melon held its shape and quality all this time so lets see how long it takes for it to break down! On June 18th of the year 2004 the very top of the melon began to dip—start of breakdown—I thought! I took it outside on June 18th 2004 and cut it open and it smelled like watermelon wine ! Yes the insides were a form of jello—but man did it smell good—almost tempted to taste some but I thought it was around too long for that–but did it ever smell delicious. This may seem unusual and it is—-it is called self life—–only achieved through excellent plant health. The plant being healthy created the results that are witnessed. Now seeing this don't you think all of our food should contain these properties that help it maintain minerals for self-preservation long extended periods of storage life! Wow! That is what excellent plant health can create!
Average test calendar—-22 inches—–weight of water melon at harvest—41 1/2 pounds—–when cut open—-39 pounds—–this was grown by an Earthsoils customer in a 5 acre field. He also had pumpkins and the field averaged 55 ton based on numbers sold and weight. The same reflection was commented on by all who purchased the pumpkins—they lasted way beyond expectations of normal pumpkins and the rein was very thick and hard to cut! Pumpkins maintain a smiley pumpkin face for longer period of time. These pumpkins also had more than the average amount of seeds produced.  Grow the Glow!